Creating Sticker for WhatsApp
To create your own sticker art, your stickers must meet the following requirements:
Images
| | | | | |
| --- | --- | --- | --- | --- |
| | QUANTITY | DIMENSION | FORMAT | MAX SIZE |
| STICKER IMAGES | min. 3 ~ max. 30 | 512 x 512 | PNG | 100 KB/sticker |
| TRAY ICON | 1 | 96 x 96 | PNG | 50 KB |
Tray Icon is an icon that will be used to represent your sticker pack in the WhatsApp sticker picker or tray.
Stickers and tray icon are images that have transparent background.
All sizes are in pixels.
Use a resolution of at least 72 dpi and RGB color mode.
Tips for reducing file size
We recommend reducing the size of each of your stickers. For reference, many of the stickers provided within WhatsApp are around 15 KB each. The smaller your stickers, the faster they will send and the less data your users will have to spend sending them or downloading your app.
If you're on MacOS, use https://pngmini.com. We recommend using Median Cut and adjusting the colors bar to reduce the size. If you're on Windows, use https://nukesaq88.github.io/Pngyu to optimize your PNGs.
Or, you can just use Photoshop Export "Save As Web" feature. As long the file size is still below the maximum allowed.
Sticker Margin
There should be a 16-pixel margin between the actual sticker image and the edge of the 512x512 pixel canvas.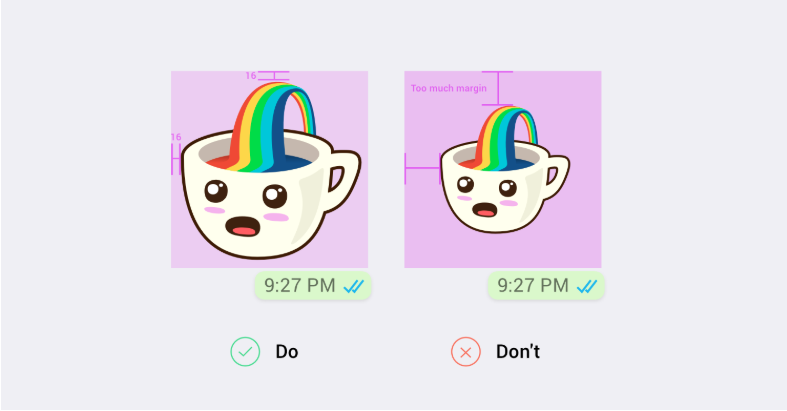 Sample File
click here to download the Sticker Image Photoshop (PSD) files.
Text Needed
Please provide us with your sticker pack's and creator's name. Each is 128 characters max
What to do after the Images are Ready?
Sign-up or Sign-in for who already registered before as Creator with Emoticker and start submitting your sticker packs. Do not forget to press the "Publish" button. After hit that, your sticker pack may need 24 hours before it become downloadable on the Emoticker App or Web. Happy creating!